Welcome to Our Practice
Meet Our Team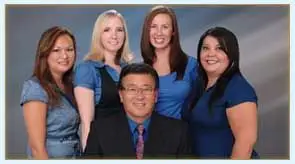 Thank you for visiting Dr. George Tashiro's website. Dr. Tashiro practices general dentistry with a focus on cosmetic dental work. If you're looking for a dentist who can make your smile look its best and provide routine care, then Dr. Tashiro can help you. We use the latest technologies including digital x-rays and tooth whitening. We'll help you keep your sparkle in your smile!
Give us a call at 562.427.1221
To schedule an appointment today.